Terms and Conditions
Villa del parco
Reservation Terms and Cancellation Policy
In order to make a reservation, it is mandatory required a confirmation email and one of the following payment method:
Security Deposit of 30% of the total amount to send through bank transfer or credit card. The reservation will be considered confirmed only after receiving the security deposit. It is possible to cancel the reservation till 30 days before the arrival date.
Prepaid Rate: the total amount is required in advance through Credit Card or Bank Transfer. This rate is not refundable.
The balance will be required at the arrival in the Hotel.
In case of age discount (for children), an ID must be shown at the arrival in the Hotel. Whether the declared age will not be the same as in the document, the price of the staying will be calculated again based on the current price list.
Any service reserved and not used based on the Guest decision will be considered enjoyed and will not be refunded.
All the pets which will accompany their owner in the hotel have to be provided with their vaccination documents and have to respect the Hotel rules reserved to them.
In case of early departure the Hotel requires a payment of the 70% of the remaining days.
In case of cancellation beyond the indicated terms, the security deposit will not be refunded (art.1385  del Codice Civile).
At the arrival in the Hotel, a deposit of € 50.00 will be blocked on the Guest Credit Card, in order to get into the room. The same amount will be unlocked after a final control of the room by the housekeeper, at the CK Out.
Excursions Villa del Parco & Casa Ilva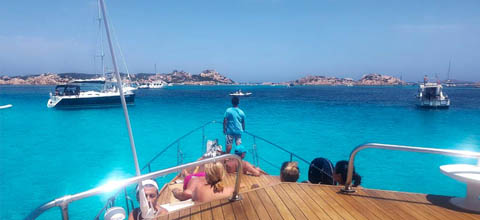 The Villa del Parco Hotel and Casa Ilva Suite & Breakfast has its own fleet of crafts, scooters, bikes and off-road vehicles with which you can go off on the discovery of the wonders of the La Maddalena archipelago and Corsica. There are various options depending on your needs – our staff will be able to help you. 
Villa del Parco Hotel and Residence La Maddalena
Services Villa del Parco & Casa Ilva
Villa del Parco Packages
Casa Ilva Packages
Excursions on Boat
Aperitif and Dinner on Board
Taxi Boat
Trekking e Mountain Bike Excursions
Shuttle Services
Boat, scooter and bike rental
Pets Policy
Shower room and baggage storage
Free Wifi
Location Villa del Parco & Casa Ilva