Price List
villa del parco
The prices in the above price list are referred to a room for a single day and two people, these include breakfast, daily cleaning and linen service, the availability of the kichenette, free WIFI, VAT 10%. From May 1 to September 30, the Taxi Boat service to the island of Spargi is included in the price
The packages including scooter or inflatable boat include the room for 2 people, breakfast, daily cleaning and linen service, the availability of the kichenette, free WIFI, VAT 10%, and it includes the daily rental of a 125cc scooter with top-box, helmet holder and 2 helmets or the daily rental of an inflatable boat Lomac 600 in with a 40cv Yamaha motor. The price does not include the fuel.
Scooter or inflatable boat missed use: in case of bad weather and consequently impossibility to use the scooter or boat included in the package, the cost of the staying will be calculated again based on the current price list.
Prices do not include: the kichenette cleaning. Plates, fridge and kichenette must be leave perfectly clean at the Check Out, otherwise an additional amount of € 50.00 will be added to the total price of the staying.
Single Room: 10% discount on the price lis
Additional Bed Supplement: € 25.00 per day, including breakfast.
Children: free till 3 years (not yet 3 years), sleeping in the parents' bed. Crib or little bed, till 3 years, on request at the reservation time, will cost € 5.00 per day. It is free if brought by the client, but in this case no linen will be supplied.
Room Assignment: room will be assigned between 3 pm and 8 pm; the check out must be done before 10.30 of the leaving day. N.B. In case of LATE CKIN please inform the reception while reserving your room with us.
Late CK OUT: € 10 per hour until 12:00 after this time the full cost of the room will be charged.
Pets: accepted, with health book, at the price of € 5.00 per day per animal. The owner is responsible for any damage. The pets cannot be left alone in the room or brought in the breakfast room.
Excursions Villa del Parco & Casa Ilva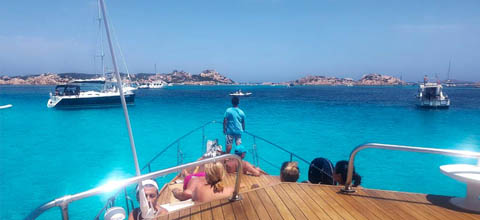 The Villa del Parco Hotel and Casa Ilva Suite & Breakfast has its own fleet of crafts, scooters, bikes and off-road vehicles with which you can go off on the discovery of the wonders of the La Maddalena archipelago and Corsica. There are various options depending on your needs – our staff will be able to help you. 
Villa del Parco Hotel and Residence La Maddalena
Services Villa del Parco & Casa Ilva
Villa del Parco Packages
Casa Ilva Packages
Excursions on Boat
Aperitif and Dinner on Board
Taxi Boat
Trekking e Mountain Bike Excursions
Shuttle Services
Boat, scooter and bike rental
Pets Policy
Shower room and baggage storage
Free Wifi
Location Villa del Parco & Casa Ilva