Our exclusive packages are created in order to allow our Guest to enjoy in the easiest way the sea and sand of La Maddalena's Archipelago. Each of our packages is a combination of the room and the inflatable boat, scooter or electric bicycle. Ideal ways to enjoy the beautiful nature of our Island.
These are the best solution to satisfy the desire of adventure. Our equipment is cleaned and consigned every morning by our staff, which will take care to clean them, refill them in petrol, and prepare them for the next tour or ride. The staff assistance is guarantee for all the rental period.
Hotel vehicles:
Inflatable boats Lomac, 6 meters with a Yamaha motor 40 cv, four stroke engine, 100 liters petrol tank, clean water shower, sunbathing space, boarding ladder, space to safeguard your bags, coolbag(to seek at the reception), map of the archipelago.
Scooter Kimko Agility 125 cc, along with helmets and helmets box.
Electric bicycles
Excursions Villa del Parco & Casa Ilva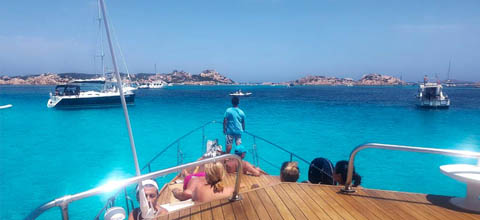 The Villa del Parco Hotel and Casa Ilva Suite & Breakfast has its own fleet of crafts, scooters, bikes and off-road vehicles with which you can go off on the discovery of the wonders of the La Maddalena archipelago and Corsica. There are various options depending on your needs – our staff will be able to help you. 
Villa del Parco Hotel and Residence La Maddalena
Services Villa del Parco & Casa Ilva
Villa del Parco Packages
Casa Ilva Packages
Excursions on Boat
Aperitif and Dinner on Board
Taxi Boat
Trekking e Mountain Bike Excursions
Shuttle Services
Boat, scooter and bike rental
Pets Policy
Shower room and baggage storage
Free Wifi
Location Villa del Parco & Casa Ilva